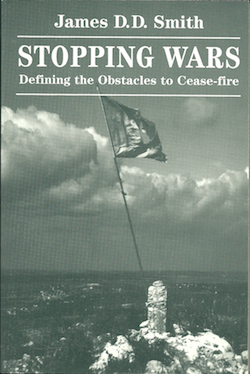 Books & Publications
Stopping Wars
by James D.D. Smith, PhD
The road from war to peace is a puzzling and uncertain one. To those who fight and die on it, it is seldom clear where the journey will end — and those responsible for finding the path are rarely more perceptive. Of the few signposts that exist, perhaps the most visible is the cease-fire. No war ends without one. Stopping Wars is the first attempt to catalog the reasons why some wars are so difficult to stop — even when both sides want the fighting to end.James Smith examines the problems encountered by protagonists as well as third parties attempting to achieve a cease-fire. Each chapter is devoted to a specific obstacle that Smith analyzes and then illustrates via in-depth case studies, drawing on such conflicts as the Iran/Iraq War, the Gulf War, and the Yugoslav wars. Smith assesses the role of third parties in trying to persuade people to stop fighting and examines what happens when obstacles to a cease-fire cannot be overcome.
Stopping Wars is available as both a hardback and paperback editions, as well as online. It can be ordered here:
Other Publications
"Canada in Croatia: Peacekeeping and UN Reform - the View from the Ground", Strategic and Combat Studies Institute Occasional Papers (No. 15), Sept. 1995. Available through the British Army Staff College, Camberley, Surrey, England, GU15 4NP.
""Mediator Impartiality: Banishing the Chimera", Journal of Peace Research 31(4), November, 1994, pp. 445-450.
`Peacemaking, Peacekeeping: European Security and the Yugoslav Conflict', London Defence Studies 11 (London: Brassey's for the Centre for Defence Studies, May, 1992) (with James Gow)
"United Nations Peacekeeping" in The Officer, January/February 1997
"Conflict Resolution Theory and Canada's First Nations: Defining a New Path", Peace Research, May 1996
"Minotaur" (a critical column) in Ariadne, the Internet Magazine for Librarians and Information Specialists, Vol. 1, January 1996, p. 8
"United appeal for a no zone", The Times Higher Education Supplement, 16 June 1995, p. 18.
"Citing the Internet: A Digital Dead End?", The Times Higher Education Supplement , September 1995.
"Summing Up", in Speed Limits, Stop Lights and Driver Training for the Information Superhighway, Community Seminar Series #16, Calgary Institute for the Humanities, University of Calgary, October 1996, pp. 75-83